Only July 5th of this year, units from 2 departments responded to a two vehicle head on collision. When units arrived they located 2 full size pickup trucks that had collided, head on at a high rate of speed. Both drivers were heavily entrapped and both were pinned inside the car. One of the drivers was pronounced dead at the scene and the second driver had heavy injuries. This team began tool extrication on the injured occupant over an hour. The patient was airlifted to a trauma center. The units then began the extrication to recover the deceased occupant.
Two fire departments were on this scene. They were met with extreme complications due to the amount of damage and occupants pinned within the vehicle. Both know that the work and skill that was displayed would have appeared to be done by a single department. All of this team gave their all that early morning. Without the joint efforts and exceptional teamwork and professional of both of these departments, the outcome of the 2nd occupant may have been different. Congratulations to Fayette County Fire Department and Spalding County Fire Department as recipients of the 2017 Teamwork Award at the Silent Hero Awards.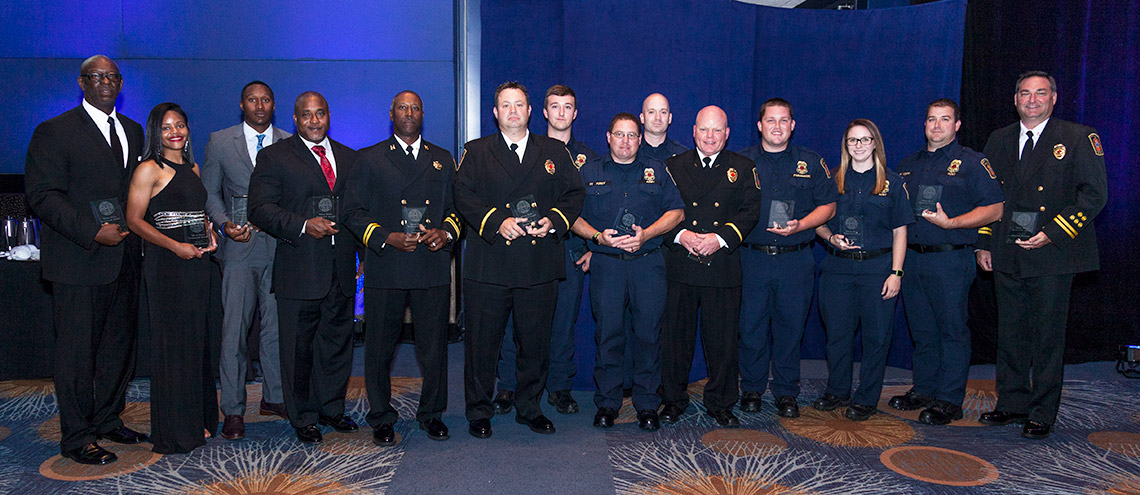 Fayette County Department of Fire and Emergency Services is represented by Capt. Bryan Blair, Lt. Jason Crenshaw, FAO Jeremy Gossett, Lt. Glen Mathis, Thomas Rutherford, James Purdy, Joseph Beshers, Daniel Young, Nathan Byars, and Candace Tootle.
Spalding County Fire Department is represented by Capt. Dexter Jester, John Collier, Ketisha Rousseau, Vincent Henley, and Desmond Woodard.