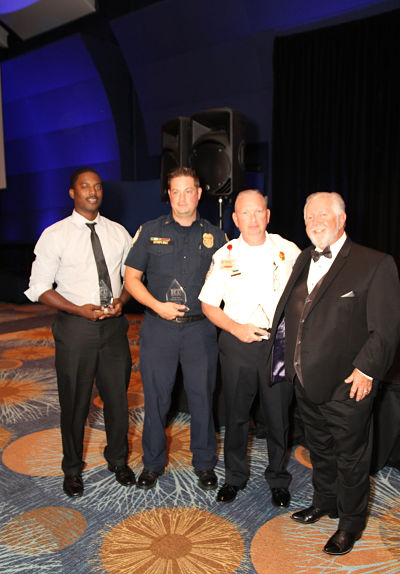 Some heroes wear capes. Our Heroes wear bunker gear. When a man becomes a fireman his greatest act of bravery has been accomplished. What he does after that is all in the line of work. These Heroes were just out driving the tiller fire truck – non emergency – when they noticed a sedan driving toward them. They knew the car was going to hit them, angled the truck in an attempt to minimize the impact and braced for impact. They were hit with such impact that it nearly caused the truck to overturn. Instead the car was wedged under the fire truck – the cab door wouldn't open and was beginning to fill up with smoke. They requested help for extinguishment, extrication and ambulances.
Then they saw that the sedan contained three children – one of them unconscious. Concerned for the overall safety of the passengers, they began to remove the unconscious child from the car and then realized that she had no pulse. One began compressions and another assisted with ventilations utilizing equipment on the truck. In less than a minute, the child began to breathe again. The driver was unable to move her legs due to her entanglement within the vehicle. She was extricated and assessed. All of these heroes immediately began treatment of the patients, DESPITE, their own personal injuries. I know they don't consider themselves heroes. But tonight, they are our heroes. And I know that they are the heroes of the people in that car. The 2016 Silent Hero Award for Heroism goes to
Lt. David Lepley, Sgt. Brandon Stripling, and Firefighter Jamal Daniel of Clayton County Fire & Emergency Services.